Oxidizing Silver
I get a lot of questions about oxidizing silver. So, I thought I would take you behind the scenes for a more in-depth look at the process.
What is oxidation and why does it happen?
All silver and many other metals go through a natural aging process. This aging process occurs when oxides and sulfides cause a thin layer to form over the silver. This film is not permanent, and it can be polished away to reveal the original silver. Since many people like this natural aged look, jewelers use special materials to speed up the aging process and showcase the silver's patina.



After the silver has been oxidized, I lay the pieces out to dry.
Below you can see examples of chain before it has been oxidized and after it has been oxidized. Silver can be almost black after oxidation. This black layer is dull and matte, so now it is time to polish the silver to highlight the texture and bring back a little shine.
Below are some of my favorite polishing tools. Depending on the piece, I will use a combination of a flex shaft with different polishing bits, a rotary tumbler, or polishing pads and cloths.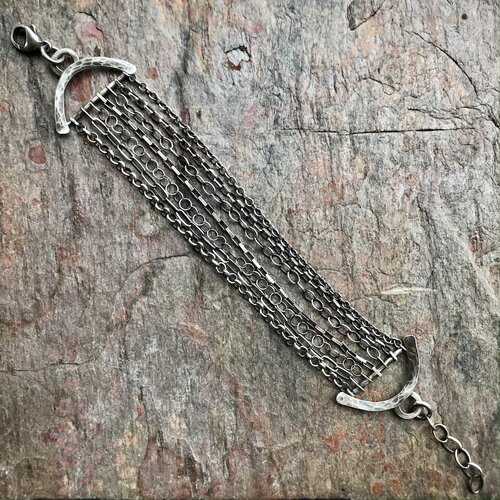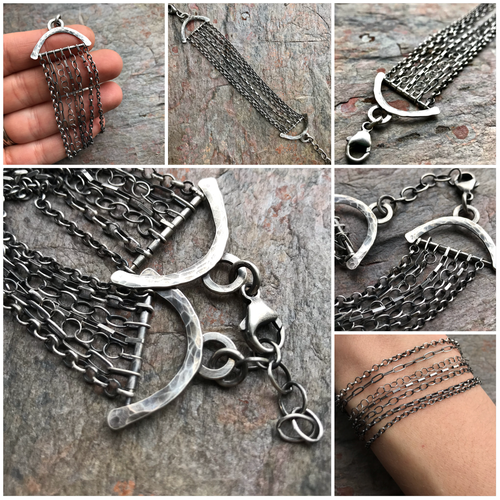 The photos below show 4 stages of the oxidizing and polishing process on some bezel-set pieces: 1. Clean and ready to be oxidized 2. Dark and oxidized 3. A light initial polish 4. The final polish once stones are set
I hope I've answered a few questions about the oxidizing process.